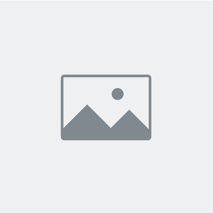 Skapad av:

Knowit

Samlar in till:
Knowit for UNHCR 2021
Dear Knowit colleagues, clients, partners, and friends in Sweden, Norway, Denmark, Finland, Germany, and Poland! Will you help me support UNHCR's project Tertiary Scholarship Programme?

For refugees, gaining access to higher education is a battle against the odds, with only 3% of refugee youths enrolled in some form of higher education. By donating, you can help a new generation of young adults to be defined by their opportunities for the future, rather than by their past.

Together with you, I would like to raise 500,000 Swedish krona (SEK or kr), equivalent to 50,000 EUR, before December 24, 2021, for the important work done by UNHCR. For every krona we manage to raise, Knowit will contribute twice the amount, until the goal is reached.

Join me by donating and sharing this message! Donate today, donate now – and have a happy and safe festive season!

Per Wallentin
CEO and President of Knowit

P.S. 100 SEK is around 10 EUR.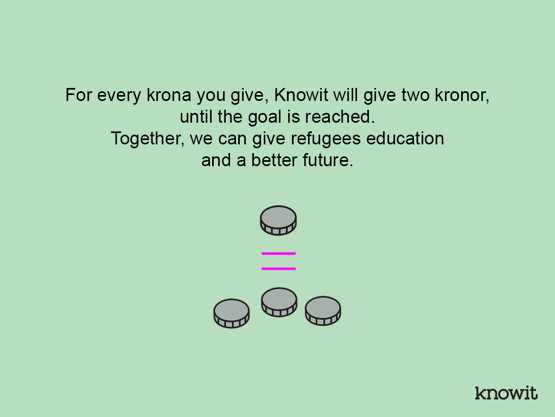 Carina Pettersson Sverige för UNHCR

Tusen tack för er fantastiskt fina och viktiga hjälp till människor på flykt!
Thank you very much for your fantastic help to refugees!


Knowit Group

gav

65 000 kr

Additional donation to summarize Knowit Christmas Fundraising 2021. Thank you all!

Knowit Group

gav

75 000 kr

Thank you all that contributed to this years Knowit fundraising!

Knowit Development AB

gav

5 440 kr

Första bidraget från Developments Advent of Code 2021

Katrin Kolare

gav

500 kr

Johan Karlberg

gav

300 kr

Peak Progress AB

gav

5 000 kr

Agnes Jouchims

gav

1 000 kr

Anonym användare

gav

500 kr

Peter Sällemark

gav

500 kr

Anonym användare

gav

333 kr

Lars sjöström

gav

100 kr

Rebecka Öfverholm

gav

1 000 kr

Anonym användare

gav

500 kr

Lawrence Kaala

gav

300 kr

Ribbans Glada

gav

500 kr

Lars Vange Jørgensen

gav

300 kr

Important cause. Hope you achieve the goal

Anonym användare

gav

300 kr

Knowit Cloud & Architecture

gav

10 000 kr

Johan Ribbeklint

gav

500 kr

Henrik Serlow

gav

500 kr

Good tradition! Merry Christmas!

Anonym användare

gav

100 kr

Christmas spirit / Knowit

Anonym användare

gav

200 kr

Stay safe, keep warm and love each other

Anonym användare

gav

14 273 kr

Vid årsmöte den 2021-12-17 beslutade Akademikerföreningen vid Knowit Connectivity AB i Linköping, Jönköping och Göteborg att skänka klubbens kassa till detta ändamål. Jag som undertecknar detta fick i uppdrag att utföra detta för föreningens räkning.