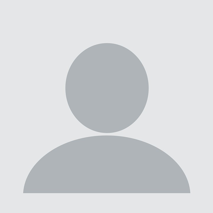 Created By:

Knowit

Collecting for:
Knowit for UNHCR 2020
Dear Knowit colleagues, clients, partners and friends in Sweden, Norway, Finland, Denmark and Germany,

Will you help me support UNHCR's Tertiary Scholarship Programme?

For refugees, gaining access to higher education is a battle against the odds, with only 3% of refugee youth enrolled in some form of higher education. By donating, you can help a new generation of young women and men to be defined, not by their pasts, but by the opportunities for their futures.

Together with you, I would like to raise SEK 500,000 (equivalent to 49 000 EUR) before December 24th for the important work done by UNHCR. For every krona we manage to raise, Knowit will contribute twice the amount, until the goal is reached.

Join me by donating and sharing this message! Donate today. Donate now. And have a happy and safe festive season!

Per Wallentin, CEO Knowit

PS: 100 SEK is around 9.8 EUR.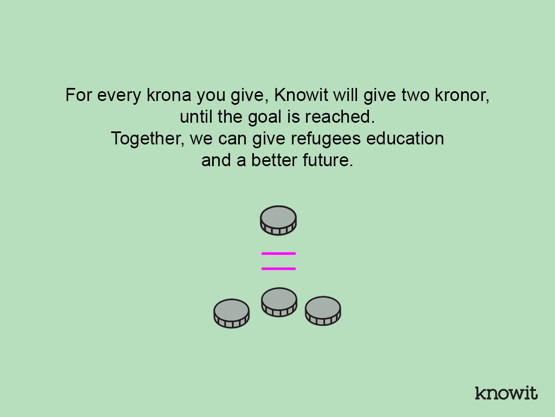 Anonymous User

donated

500 kr

Knowit Development & Knowit Mobile

donated

4,800 kr

Advent of Code-utmaningen 2020

Mark Sevalnev

donated

1,000 kr

Anonymous User

donated

200 kr

Anonymous User

donated

100 kr

Anonymous User

donated

1,000 kr

Fredrik Schönfeldt

donated

200 kr

Anonymous User

donated

100 kr

Nils Grashorn

donated

621 kr

Knowit Cloud

donated

1,000 kr

This is an inspiring call to action. Education is key for refugees to work and integrate to their host countries, and foremost entitles them to contribute actively to the society that welcomes them. Supporting "Refugee Education 2030" initiative.

Rebecka Öfverholm

donated

1,000 kr

Håkan Ramberg

donated

500 kr

Knowit Experience Linköping

donated

5,000 kr

Johan Sällemark

donated

500 kr

Peter Sällemark

donated

500 kr

Johan Fahlgren

donated

150 kr

Fredrik Grahn

donated

500 kr

Pernilla Skoog

donated

100 kr

Viktigt och bra initiativ!

Idun Storm

donated

500 kr

Anonymous User

donated

100 kr

Knowit

donated

300 kr

Lars Petter Løvslett

donated

500 kr

Anonymous User

donated

500 kr

Camilla Davidsson

donated

300 kr